How it works
Step 1
Choose a puzzle for the recipient to solve
Step 2
Write, record or snap your secret message to be stashed in our online vault
Step 3
We send the puzzle out in the post
Step 4
They solve the puzzle to reveal their unique access code, login to our vault and view your message
"This was sent as a gift for a birthday and did not disappoint! Such a great concept and we both thoroughly enjoyed it. What a great gift!"
"Love love love this!! My partner and I had a great time working out all the puzzles."
"LOVE IT! You have to think outside the box and it's great fun!"
"It says how enthralled I was that I was planning on doing it later but as soon as I got one clue we couldn't stop."
Choose a puzzle to get started
Each pack includes a series of realistic puzzles that will challenge logic, creativity, and the ability to think outside of the box. All the puzzles revolve around realistic storylines and pieces, and are designed to be completed within 60-90 minutes on average. Suitable for ages 13 and older. There may be references to alcohol, but nothing explicit.
Wanting to surprise a child? Let them believe they are an undercover spy for a day? Keep them busy and entertained off their screens? Each puzzle pack includes a series of fun and educational puzzles that will stimulate imagination, logic, and creativity for 45-60 minutes. Recommended for children ages 7-10.
Adults
Adults
Adults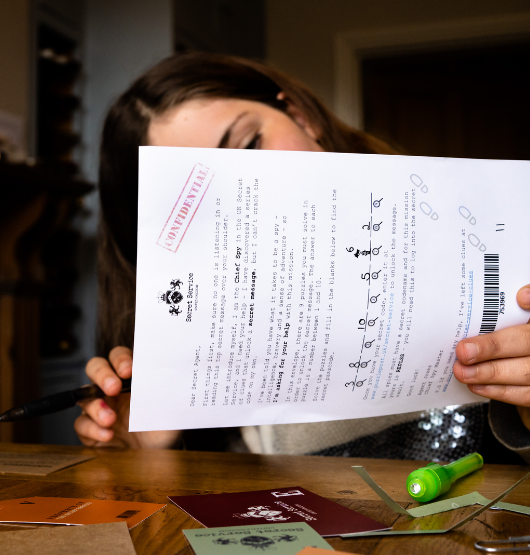 Children
Featured in "The Best Gifts To Give In 2020"
"There's no need to leave your home to do an escape room anymore – this one is just as fun."
"A perfect alternative to that Christmas day game of monopoly"
If you aren't together this Valentine's Day, this twist on the old-fashioned love letter might be for you."